I'm back again to help you how to better care about your skin with. I'm definitely sure you noticed your skin has more wrinkles, fine lines, sags under the eyes with aging (ladies are special sensitive for that). Everybody thinks it's because of collagen absorption and its depletion from the skin by aging and it's true but it's just a small part of the equation. Our most important agent is ELASTIN. Collagen can be stretched just around 15% but Elastin 200%!!! That is something, right? We need our skin to be as much elastic as possible. We lose elasticity by age as I mention before but also because of other factors:
Sun

Pollution
Bad diet (high carb)
Smoking
Stress
I just mentioned a few of them but most important. That doesn't really matter. What matters is how to fight it back, right???
Retinol, a derivate of vit A, can help just topically but good,

bioavailable, vitamin A from inside is better but t

he best is a

combination of both

Hyaluronic acid 200mg also a combination of both

Glycolic or lactic acid as a skin pealing (topical)

Vitamin C and E (I don't recommend taking vitamin E supplements to

people after 40, food is fine)

Zink food-based supplements

Aloe vera, cucumber, green tea (EGCG), ginseng, Ceylon

cinnamon (topical but also internal use)

Exercise but more important rolling roller foam thru your skin to

get blood to come into your fascia that requires to brig blood

there mechanically

Hot pepper (chili) brings blood everywhere with its nutrition

Hydrolyzed collagen peptides type I and III but the best is

Peptan type I and III

Astaxanthin 4mg (12mg for hard exercise person)

Carnosine 1000mg (this one is good for everything) topical but also internal use

STOP SMOKING!!! I know it is obvious but…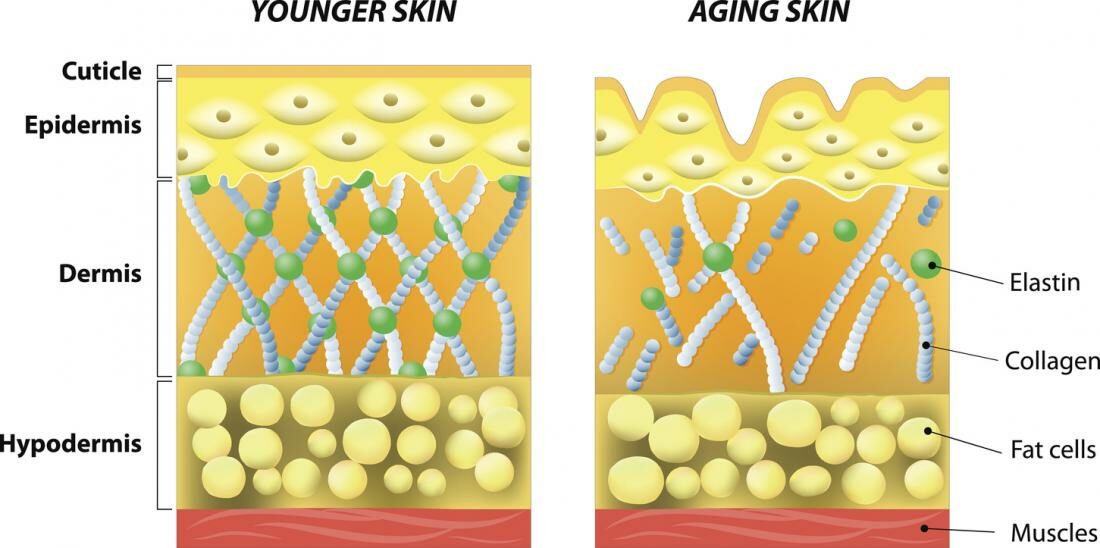 Take everything, that I mentioned for internal use, without anything else! Take it on empty stomach! The best option is first thing in the morning and even better after morning exercise with warm black coffee. I know, not everybody can do such a crazy protocol but, at least, do as close as you can to that. You will see great improvement pretty soon. What foods do I recommend to replenish Elastin? First of all fatty fish, shellfish, some fatty nuts, citrus fruits, berries, bone broth (good for both elastin and collagen). Eat them later, at least half an hour after my protocol I hope you will like my protocol and I also hope you will come back here to find other good advice and life-saving information.